Focus DAILIES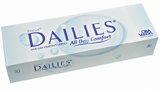 Focus DAILIES contact lenses are made of a moisturizing material. This unique material moisturizes on contact making the Focus DAILIES one of the most comfortable daily disposable contact lenses available. Focus DAILIES contacts need no cleaning or storage, making them very practical to use.
Daily disposable contacts, Focus DAILIES being one of them, are very well suited for people with allergies since they minimize the build-up of pollen and deposits. Daily contacts also decreases the risk of eye infections and other eye related problems.
Focus Dailies is one of the most rebranded contact lenses on the market and are also sold under the following names
Boots Daily Disposable (Diam 13.8), Ciba Dailies, Conlons Mirage Dailies, Eye Clinic Daily Vision (Diam 13.8), FCUK Daily Contact lens, Focus Dailies All Day Comfort, Specsavers EasyVision 1 Day (Diam 13.8), Specsavers Encore.
Focus DAILIES Details
Manufacturer

Type

Daily disposable soft contact lenses

Characteristics

Unique material that moisturizes on contact
Good choice for people with allergies
No cleaning or storage necessary

Material

31% nelfilcon A

Packaging

30-90/pack